Downloadable form is in Adobe Acrobat format. You'll need to have Adobe Acrobat installed on your computer to fill out the form.
Get Acrobat Reader 

Click here to DOWNLOAD the latest Rental Assistance Application form.
NOTE: Do not change the file extension for this file. The file extension should be FDF.
INSTRUCTIONS:
When you first open the downloaded document, you'll be prompted with the following messages: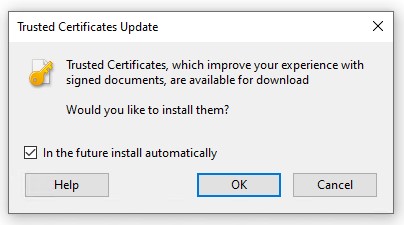 Click 'OK' to receive message below:

Please fill out this form with Adobe PDF Reader and then click on the "SUBMIT" button on the last page to electronically send the filled out form to the Chehalis Tribal Housing Authority.

After you've hit submit, you may receive a warning message from your Adobe Reader such as below: You will want to click "Allow" to complete the submit action.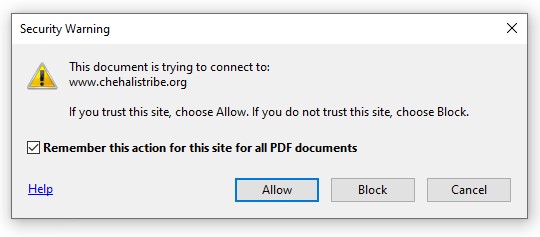 When you receive a Thank you message back, you have successfully completed and submitted the form to us.