On Patrol 24/7
In case of emergency, please call 911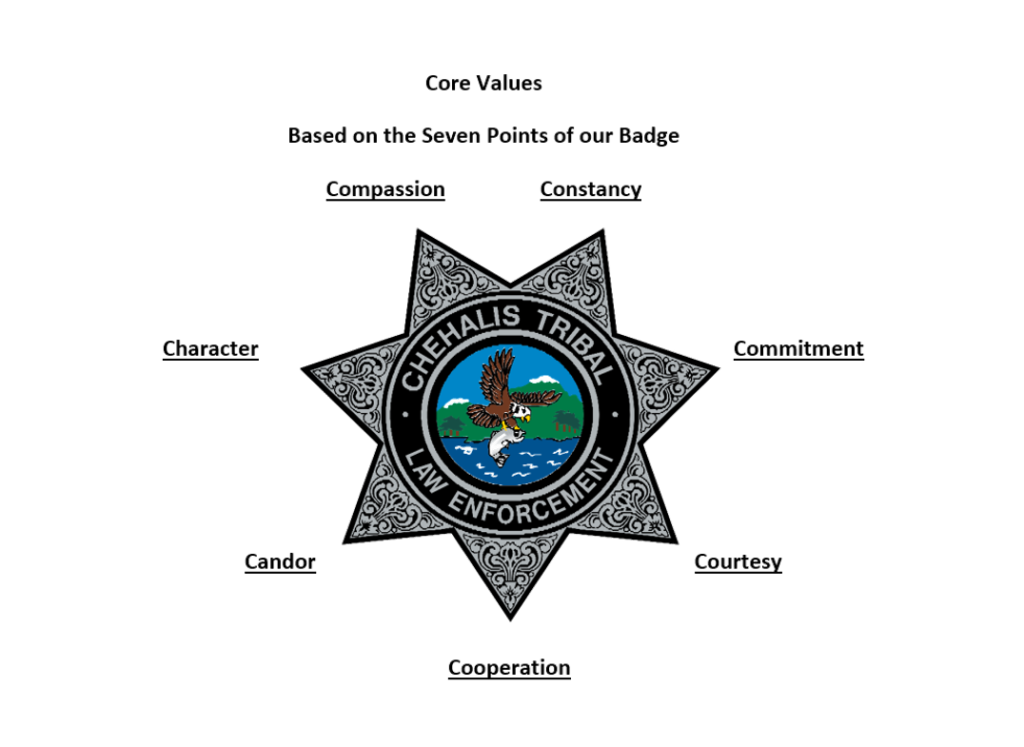 Character:
The qualities of moral strength and stability. Integrity, Honesty, Servitude.
Courtesy:
Respect to law and order for all peoples.
Compassion:
The ability to apply knowledge and wisdom to the best advantage of all concerned.
Cooperation:
The ability to work closely with the Chehalis Tribal Community, Chehalis Tribal Departments, Chehalis Tribal Administration, Local Businesses, and off reservation entities.
Commitment:
To show dedication to the Chehalis Tribal Department of Public Safety and the Chehalis Reservation.
Candor:
To be free from bias, fairness, or impartiality
Constancy:
To be unchanging or unwavering in purpose and function.
Contact:
Location:
Office Hours:
Monday – Friday
8:00 AM – 4:00 PM
Here's the link to National Sex Offender Public Website
Helpful Links:
Visit MISSING OR MURDERED INDIGENOUS PERSONS Website
Visit NSOPW Website
Visit Offender Watch Website
Visit Crime Reports Website
Visit Grays Harbor Sheriff's Office Website
Visit The Official Site of the Thurston County Sheriff's Office Website
Visit Washington State Patrol Website
Visit Grays Harbor County Domestic Violence Website
Visit Thurston County Domestic Violence Website
Visit The Crime Victims Advocacy Network Website



Click here to see the Tribal Exclusion List