Skokomish First Annual "Paddle for Life" Event
By Fred Shortman
On Saturday, June 21 the Skokomish Tribe hosted the first annual "Paddle for Life" event. It started small and soon became a huge community effort involving many different agencies from the Skokomish Lucky Dog Casino and SPIPA Cancer Programs. It quickly became an inter-tribal event inviting other tribes to participate. This was a grassroots effort to address the spread of cancer in all tribal communities through prayer, stories, and songs. Cancer survivors were invited as royalty to ride along the journey on the water.
The work and collaboration was a long worthwhile process. The Native Women's Wellness Program and the Colon Health Program worked collaboratively with the Skokomish Tribe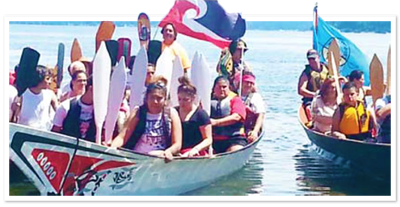 in planning and providing education, outreach and incentives. SPIPA was well represented in this event which is the first of an annual event. The tribute to cancer survivors and the need to be screened was phenomenal. Many attendees were there because they needed to be there to have a personal satisfaction of doing their part in achieving their goals.
Twelve canoe families participated that day with over 700 people who came to witness and participate in the activities. Each puller had a prayer in their heart for loved ones that survived or were lost to this deadly disease as they made the journey from Twanoh to Potlatch State Park. One of the canoes was tuulap tit wiA (Tu-lap ti weah) with her pullers and skipper from the Chehalis Canoe Family. Many agreed it was a good day on the water for healing, balance and dedication for those affected by cancer.
After receiving permission to land by the hosting Skokomish people, there was feast of shrimp, geoduck, deer, elk, steamer clams, side salads, fry bread, yeast bread, and chowder that was provided by the Skokomish Tribal Members. The guest speakers talked about how cancer has reached into their lives. It was a very emotional and healing moment for many who sang their song and shared their stories.
Afterwards there was a raffle offered with many cultural and non-traditional items that were donated for the cause. Pledges were collected to contribute to the canoe registration fees of $500 and/or sponsors and raffle. All will be donated to the NWWP and CHP to assist in program needs to recruit more Natives to be screened for early detection of cancer.
The Port Gamble S'Klallam Canoe Family challenged all the other tribal canoes families to return next year with a $5000.00 donation. Our hands are up for everyone involved in the first annual Paddle for Life Event, from park rangers, Canoes, pullers, canoe support boats and captains, law enforcement, medical trailer and staff, parking attendants; head cook and volunteers, Shuttle services, sound equipment, stage, emcee, Skokomish Tribe, Lucky Dog Casino, and SPIPA Cancer Programs.
Paddle for Life
Originally published in our Chehalis Tribal Newsletter,
July 2014 which can be downloaded below.