Our Mission:
To work for a safer and healthier environment by providing quality healthcare to the community in an environment that respects human privacy and dignity while promoting individual/family wellness, and by supporting a meaningful interaction with the community to enhance clinic development and to meet changing health care needs.
Facility: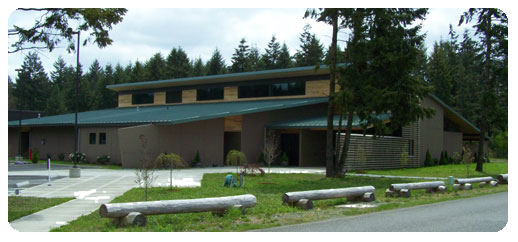 The Chehalis Tribal Wellness Center is a full-service family practice clinic that has been serving Chehalis tribal members since 1979. Services are provided from a newly constructed, modern 17,400 sq ft facility built in 2006. The facility has 12 exam rooms, triage and trauma area, digital radiology services, and a large dental clinic.
Services and Programs:
Medical
Dental
Contract Health Services (CHS)
Diabetic Counseling
Nutritional Counseling
Community Health Services (CHR)
The Chehalis Tribal Wellness Center provides ambulatory health services to tribal and community members living on or near the reservation. Services include Ambulatory Medical Services, Dental Services, Women's Health, Diabetes prevention and treatment, Contract Health Services, Medical Records and WIC Program. Specialized women's health services include reproductive care, and breast cancer outreach and screening. Quarterly mammography screening is offered onsite. The clinic's RPMS data system for 2009 shows a user patient count of 1,278 with a total of 4,136 encounters.
The Chehalis Tribe constructed a 50,000 sq ft Community Center in 2009. The Community Center adds to the health services available to tribal members by providing a multitude of programs and events that foster community health and physical activity. The facility has a 1,767 sq ft swimming pool, two gymnasiums, a workout room, and educational classrooms for both children and adults. The large facility provides gathering space for many tribal events including basketball tournaments, youth activities, and community health fairs.
Contact:
(360) 273-5504
Location:

21 Niederman Road
Oakville, WA 98568

View on Bing Map
Clinic hours:
Monday – Friday
8 AM – 4:30 PM
Meet the team:
Denise Ross, Director