"Paddle for the Battle"
…A Day for Healing and Sharing
By Lyn Dennis, Lummi/Tahltan of British Columbia
The "Paddle for the Battle" addresses cancer and through healing, 10 canoes began pulling at Twanoh State Park on the Hood Canal and arrived at Potlatch State Park on August 22. The tide was high and yet the waters were still, as canoes from Quinault, Chehalis, Port Gamble S'Klallam, Muckleshoot, and Skokomish landed.
All ages, both Native and Non-Native aligned the beach, as Chairman of the Skokomish Tribe, Guy Miller, and tribal members sang a welcome song.
The Quinault Nation's canoe came ashore and sang a traditional song, stating it was an honor song and they were glad to be here. Emcee Marty Allen, of the Skokomish Tribe, welcomed everyone and introduced Elder Delores "Dorie" Gleason, who is 78 years old and a cancer survivor. She said she got cancer in her 40's and had difficulty getting health care. Those were very hard times for her and she felt alone. She said, "I am happy to be a witness today and we are survivors and I want to thank everyone for being here today."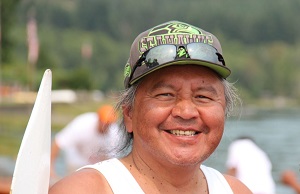 Rodney Youckton, thankful to participate
and honored to support fighting cancer.
There were various speakers who wanted to share about their experiences with cancer. Rodney Youckton, a Chehalis Canoe Family member said, "I am very honored to be able to support fighting cancer. It is important to maintain a positive attitude. Look at all the young kids participating. They are our next hope. To have confidence to overcome challenges." He concluded "It is always a blessing to be thankful today."
Roberta Ortiz, a puller and member of the Oglala Sioux Yomba Shoshone Tribe, came from Portland, Oregon. She represents NAYA, the Native American Youth Association. She said, "The biggest part is showing up. I am honored to be on your water and appreciate opening your community."
Lukas Angus, a puller and member of the Nez Perce Tribe, who also traveled from Portland, said he wants to gain knowledge and offer prayers.
John Cayou, Jr., of the Swinomish Tribe said, "When this canoe journey started, to travel community to community like our elders used to do. I want to thank the elders and thank who organized this event. Singing the songs on the water is a blessing."
Gary Petersen, a Skokomish Tribal member, said "We are reclaiming many things, our language, culture and Indian names. My mother had colon cancer and it was terminal. She was only 47-years-old when she passed away. She would have had a better chance if she had the resources we have today. He went onto say that he has been a social worker for the past 40 years and involved with the Indian Child Welfare Act. "We want to make sure our Indian children are raised in our tribal communities. This is a chance for our young people to sing on the water and pull in the canoes."
Walter Jackson, a Quileute Tribal member, said "I would like to thank the Skokomish Tribe and everyone who helped with putting this together. We need to continue to pray for our loved ones fighting this battle." Jackson went onto to say "My daughter, Charlotte is battling cancer. She is fighting it and is determined. I'm thankful to all of you for being here." He also said it was special to see the young ones singing on the beach and encourages them to listen to elders when they speak.
Ed Green, a Skokomish Tribal member and skipper said, "This is a good cause. We've got to live good and healthy and we're going to keep doing this "Paddle for the Battle."
Elsie Allen, a Skokomish Tribal member said, "I am a survivor of cancer. We all love you and we have your back."
Emcee Marty Allen said, "I am thankful to be here today and be a witness. It touches my heart to see people fighting this cancer."
Dennis Jones, a Port Gamble S'Klallam Tribal member said, "I am here for my father. Cancer grabbed my dad and tried to take him down. My dad is here because of prayer. I wouldn't cry about what my dad was facing. I sat with my dad in the kitchen and told him that he taught me never to give up. He's still with us here today after 10 years. And we looked upon everyone who prayed." Jones concluded and said this event is a really great thing.
Anna Brown, a member of the Nisqually Tribe, standing up in front of everyone wearing a red scarf said, "I have lung cancer. I'm hanging in there. I've been through chemotherapy and radiation. I am happy to be here."
Rose Robinson, a member of the Quinault Nation and Skokomish said, "I'm honored to be here. I lost my mother to colon cancer and she was only 55-years-old. I am honored to see all the survivors."
Lester Dan, a member of the Quinault Nation said, "I lost my wife to cancer. The water is healing and I am glad to be here today."
Bill Kalapa, a Makah Tribal member from Neah Bay said "I'm a cancer survivor. Those were the loneliest years of my life and suffering the after effects. I've been a preacher all my life and I know I can trust God. The flyer for this "Paddle for the Battle" said to come meet with old friends. You've been a wonderful audience and good listeners."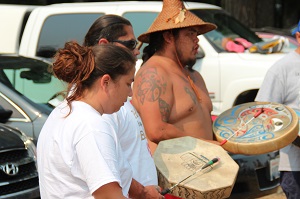 Shannon Comenout leads the tribes
in singing before the feast.
Then a traditional Tuwaduq Potlatch Feast was enjoyed by all, including the famous Hood Canal shrimp, barbecued salmon, elk, and a variety of side dishes. A special thanks to Volunteer Cook: Gussy Blacketer; Shrimp Cook: Cody Andrews; Harvesters: Tim LeClair/shrimp; Ed Green/elk and fish; Fish Processing: Mark Warren; Fish Cooks: Kevin and Norma Cagey.
This is a fundraiser to help cancer patients. A special thanks to the Squaxin Island Tribe and S.P.I.P.A., the South Puget Inter-tribal Planning Agency for donations of food and gifts. The raffle had a number of donations, from Native artwork to sweatshirts, firewood and more.
Hosted by the Skokomish Tribe, appreciation goes to the "Paddle for the Battle" Planning Committee: Chair: Rita Andrews; Vice-Chair: Ed Green; Treasurer: Darlyn Warren; Secretary: Heidi Brown, and others included: Shanoah Cloud; Jody Rosier; Joseph Vukich; Eleanor Smith; Annette Smith; Lila Vigil; Kimberly Miller; and Jake Smith.
The "Paddle for the Battle" was a special day of healing for all.
Paddle for the Battle
Originally published in our Chehalis Tribal Newsletter,
September 2015 which can be downloaded below.