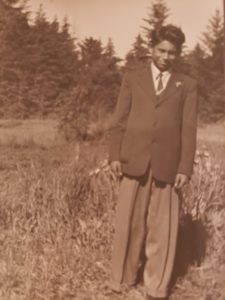 There are moments in history when we tell the stories of where we were when we heard the news; the moon landing, when Mt St. Helens erupted, Johnny Carson's last Tonight Show and Lou Gehrig's farewell speech.  Today, for the Chehalis Tribe this will be another one of those times.  On Tuesday, April 14, 2020, Daniel "Bones" Gleason has decided to turn the page to the next chapter in his story and enter retirement.  The name Bones is synonymous with the Chehalis Tribe in, not only the surrounding region, but also all of Indian country.
Bones began his career with the Tribe in 1972 as a tribal police officer and held the position until 1975.  In the fall of 1976, he was hired for a dual role in enrollment and administration and eventually became the Director of Facilities, Enrollment and Administration.  A position he held honorably until today. During his tenure, Bones also served as a manager of Social Services. Throughout his long and illustrious career, Bones served on various sub-committees for the Chehalis Tribe and also served on the Business Committee for many terms as Vice Chair and 5th member.
Along with his committee work for our community, Bones held a seat on the Health Board as early as the 1970's, was an influential participant in SPIPA, WWIETIP, and NICS in its inaugural committee, and remained there until just a short time ago. Additionally, he participated in the Health Alliance Office in Chehalis, which is a group consisting of Chehalis, Cowlitz, Chinook, Shoalwater and Nisqually. Bones has been responsible for blessing a majority of our gatherings, so it is important to mention he was named Assistant Minister to the Shaker Church in 2014.
As a young man, Bones served in the United States Air Force from 1955 to 1959.  He received his basic training in California and Wyoming.  This training took him across the pond where he spent a year at the USAF base in Liverpool, spent 10 months in London and a year in Germany before returning to our community.
When the End of the Trail 1 opened, it was one of Bones' duties to make midnight runs to Puyallup and Plumber Idaho to collect cigarettes to stock our shelves.  When questioned as to why he had to go so late, he simply replied "had to go when there weren't any cops around".
When asked what his biggest accomplishments in his time with us were he simply said "being here for the community and helping it grow." Bones felt that the greatest asset to our people is that we all work together no matter what the assignment was and his fondest memories were being a representative for his people all across the region.
The advice he offers us is a perfect definition of who Bones is; Look to the Creator and pray each day, continue to work together, help one another every chance you get. Lastly, keep a good mind and stay healthy.  Bones intends to spend as much time with family as he can and get his steps in.  If you know Bones, you know that means he will be active in retirement.  When asked what he will miss the most, he replied "Getting up every day to go to work and seeing everybody".  Daniel "Bones" Gleason is a vital thread to the fabric of our organization, tribe and of our history.
A good teacher is like a candle, it consumes itself to light the way for others.  On behalf of the Chehalis Tribe thank you for your many years of service.