Linkin the Lion wins best costume for boys newborn to 1 year old category.
The Chehalis Tribe celebrated Halloween weekend on the reservation with festivities for all age groups. The community showed their spirits with an array of costumes. There were outfits of all kinds; from super-heroes to unicorns. Fred and Wilma Flintstone even decided to join the party.
Thursday Oct. 25 –Early Learning jump-started the Halloween activities with a party and a dinner for the children and their families. Early Learning building 2, which is more commonly known as the old Youth Center, was decorated and set up for children to go around and visit different stations.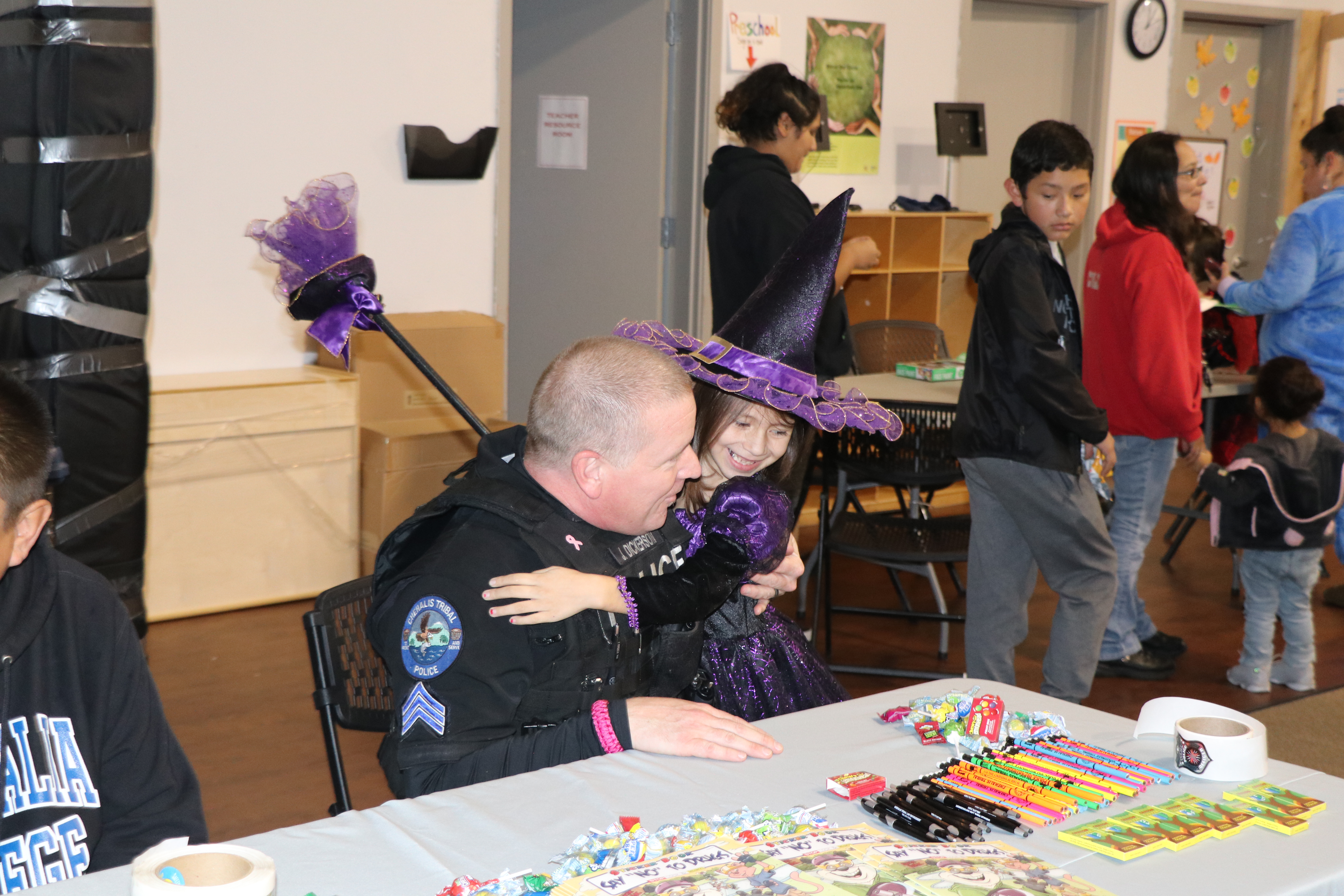 The children talked to Sergeant Jake Dickerson as he handed out items on behalf of Public Safety and the community resource team. The kids had the opportunity to get their face painted, fished for candy, play with slime, and a station set up to take pictures and capture memories.
Saturday Oct. 27 – More than 100 people gathered at the Community Center for the annual Halloween party hosted by the Events department. The evening started with a dinner at 5 PM, and the meal was followed up with a costume contest and dance for the youth.
The Events department arranged the contest into age groups, and everyone from newborn to adult had the chance to win and go home with a gift card or one of the other various prizes. After he winners were announced, children wasted no time getting to the dance floor to show their off their moves. They danced into the night to the music of a live DJ.
Age groups for contest: 0-1, 2-3, 4-6, 7-9, 10-12, 13-17, and 18+.
(Age groups and winners)
0-1: Linkin the Lion
0-1: Scotty the Cat
2-3: Landon the Ghost Dinosaur
2-3: Minnie Anastazia Mouse
4-6: Benz the Green Ninja
4-6: Bat Girl Joselyn
7-9: Black Panther Noah
7-9 Taryn the Skelton Girl
10-12 Dominic the Alien
10-12 Amara the Unicorn
13-17 Tristan the Killer Mechanic
13-17 Rosalina the Nun
18+ Fred & Wilma Bird