Talking Cedar, Chehalis Tribal Enterprise's (CTE) latest project featuring a distillery-brewery-restaurant, is nearing completion. The project broke ground in April 2019 and was scheduled to be completed this spring. COVID-19 has delayed our completion, but we anticipate opening for business this summer.
The restaurant will have 200 seats and provide upscale pub food alongside beer and spirits. Talking Cedar is part of CTE's continuing economic development programs, which creates job opportunities for tribal members.
During the construction process, many community and enrolled tribal members were employed to operate heavy equipment.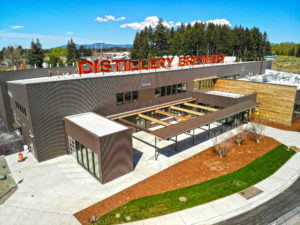 Also, CTE is teaming up with South Puget Sound Community College for a Craft Brewing and Distilling Program to train tribal members to be in-house brewers.
This development is a monumental movement for all tribes across the nation because it will be the first brewery/distillery to operate on reservation territory.
Although the COVID-19 emergency has presented unfortunate circumstances globally and delayed the grand opening of Talking Cedar, CTE has developed ways to help the pandemic fight.
In partnership with Heritage Distilling of Gig Harbor, we have converted a number of stills that were initially intended to make spirits to produce hand sanitizer. We will be able to supply the region in abundance during the outbreak.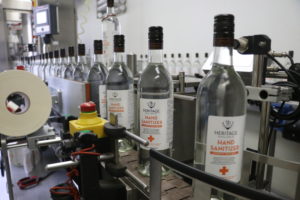 The Tribe and Heritage put together a two-week project in the middle of May that involved manufacturing hand sanitizer on the Chehalis Reservation.
The tribe hired a crew of temporary employees to help with all of the operations.
The crew set up outside of CTE headquarters and was involved every step of the way – from mixing ingredients (water, hydrogen peroxide and glycerin) to wrapping up pallets and sending them off for shipment.
The crew assembled 14 pallets the first day. The process included bottling, labeling and packaging 750 milliliter bottles of hand sanitizer.
According to Heritage Distilling, the product will be sold to distributors across the United States and will be in big-box stores such as Costco.
There has not been an official date set for a grand opening to the public, but CTE is evaluating how to best serve the Pacific Northwest people in the safest way.
We are excited to continue to provide economic and community development and look forward to welcoming you to Talking Cedar this summer.