Feb. 28 –During the A.C.E awards program lunch, Tribal Gaming Agency's (TGA) Skyler Baker was named the January Employee of the month for his heroic demonstration of preventing an overdose inside the casino bathroom.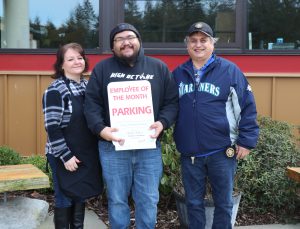 Baker heard the call over the radio of an unconscious and unresponsive patron, and quickly reacted. He grabbed 2 doses of Narcan, which is used to prevent/reverse Opioid overdose, and rushed to provide assistance.
Baker, along with fellow TGA employees and members of Chehalis Tribal Public Safety were recently trained on how to properly administer the Opioid antagonist "Narcan".
With the assistance of casino security-EMT, Baker administered the first dose, and there was no response. Baker then gave the second dose, and the patron regained consciousness.
The individual became responsive, yet seemed confused about what took place. After he realized that Baker and casino EMT members helped prevent an overdose, he requested to personally thank Baker for saving his life.
When asked about his heroic action, Baker said it's just part of "doing my job."
The recognition and being honored with the award shocked Skyler. He spoke in front of He thanked everyone in his department for being such an instrumental part of his growth as a professional.
Other candidates and reason for being nominated: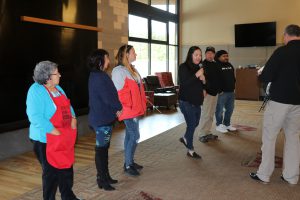 Reggie Sanders (Grounds) – Adjusted his work schedule to keep everyone safe during the period of inclement weather of snow and ice. Many times, he would arrive before 6 A.M. to ensure the main areas of the reservation are cleared for employees, visitors, and those who live on the reservation.
Joan Martin (TGA) – "Heart and soul of the TGA department."(- Derec Filkins). She continuously takes care of and ensures that the casino is in compliance with the State Gaming Agency. Martin is a key component in maintaining a smooth working relationship among the casino and the rest of the Chehalis Tribal Government.
Joe South (Public Safety) – As a patrol officer, he faces a lot of issues that the general public doesn't encounter. Yet, he comes to work with a productive attitude and positive mindset every day. His commitment to serve and protect the community is evident among community members.
Christibeth Klatush (Wellness) – In her nomination letter she was termed an "unsung hero" for the work she does helping families of children ages 0 to 3 years old. As the healthy families program home visitor she arranges visits to assist and their specific family needs.
Marlene Hjelm (TGA) – Received her nomination for her outstanding citizenship. Early in the month of January, a young mother and her family missed the transit bus from the hotel. Hjelm graciously paid for a hotel room so the family had a place to stay for the night.
Jennifer Youckton (Administration) – Jennifer is the front desk receptionist at the Tribal Center and is going on 7 years at that position, which makes her one of the faces of the Chehalis Tribe. She is willing to help both visitors and staff daily, and does so with a smile.