Tribal youth make fishing poles
October 21, 2018 — Six Chehalis tribal youth spend the afternoon learning how to make their own fishing poles as they begin the preparation process for the first ever 'Rites of Passage', which is a 4-day journey on the Chehalis River.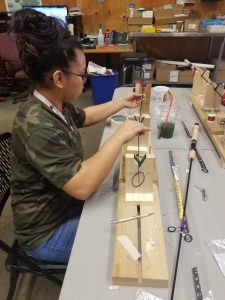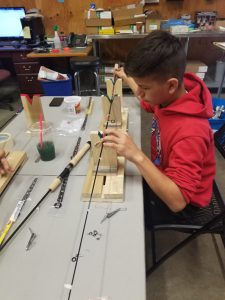 Youth ages 12 to 17 will take the same routes that their ancestors took to meet sufficient needs. For generations, the Chehalis people relied on the river and its resources for survival. They also used the waterways as a one of their main means for transportation and trade.
Experience Chehalis fisherman, Shawn Ortivez and Todd Delamater, led the pole building class at the Fisheries building. The Fisheries program is collaborating with numerous other programs and departments to gear up and assist the youth in every step of this process.
The trip will be held next summer in mid-July, but a ceremony of this magnitude takes planning. The participants will be paddling miles each day, camp for three nights, and even do some fishing along the way.
Having them construct their own poles is intended to help the youth to better appreciate the work that Native ancestors had to do in order to bring dinner to the table. They will get a chance to test the poles as they will be using them throughout Rites of Passage. There is scheduled to be many activities that promote culture revitalization leading up to the ceremony in July.
The organizers of the event will be holding various classes to ensure that the youth are prepared for this endeavor. There will be a gill net class where participants learn about the history of gill nets and the purpose they serve the tribe today. The will teach the methods to properly set net and pull in fish.
Additionally, those who are taking these Rites of Passage will complete training programs that provide life skills that could be applied throughout life; such as cold water training, CPR certification, and many more.
Also, fundraisers will be held in the months leading up to next summer. For more information on upcoming workshops and fundraisers, please contact Glenda Comenout at gcomenout@chehalistribe.org or Bill Secena at bsecena@chehalistribe.org.
Deadline for sign-ups is December 18th, 2018.
Youth participants will be eligible for a variety of classes that are dedicated to the Rites of Passage.
Classes will begin prior to the deadline.