In less than a month, construction crews working for WSDOT will begin efforts to build a new roundabout at the intersection of US 12 and Anderson Road between Oakville and Rochester.
Q: Why is WSDOT planning changes to the intersection of US 12 and Anderson Road?
A: WSDOT explored alternatives to help reduce the potential for collisions. After thorough review and analysis that incorporated public input, the decision was made to build a single-lane modern roundabout at the intersection. Modern roundabouts provide a cost-effective and efficient solution to keep traffic moving while reducing the likelihood and severity of collisions.
What travelers can expect:
The work is scheduled to begin as soon as Monday, July 6 and continue into early fall.
WSDOT will keep travelers moving with a single-lane of alternating traffic with temporary traffic signals and a reduced speed limit.
Crews will build half of the roundabout at one time.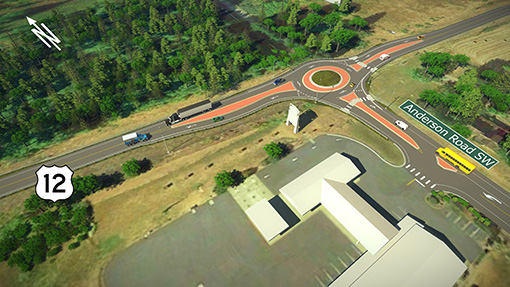 We anticipate the new US 12/Anderson Road three-legged single-lane roundabout will open to open to traffic before the return of the fall rains.
Advance information about roadwork at this intersection and other state highways in Thurston County is available online.
https://www.wsdot.wa.gov/travel/construction-updates/thurston
https://www.wsdot.wa.gov/projects/us12/andersontomoonrdsafety/home